Who is Antoni Gaudí?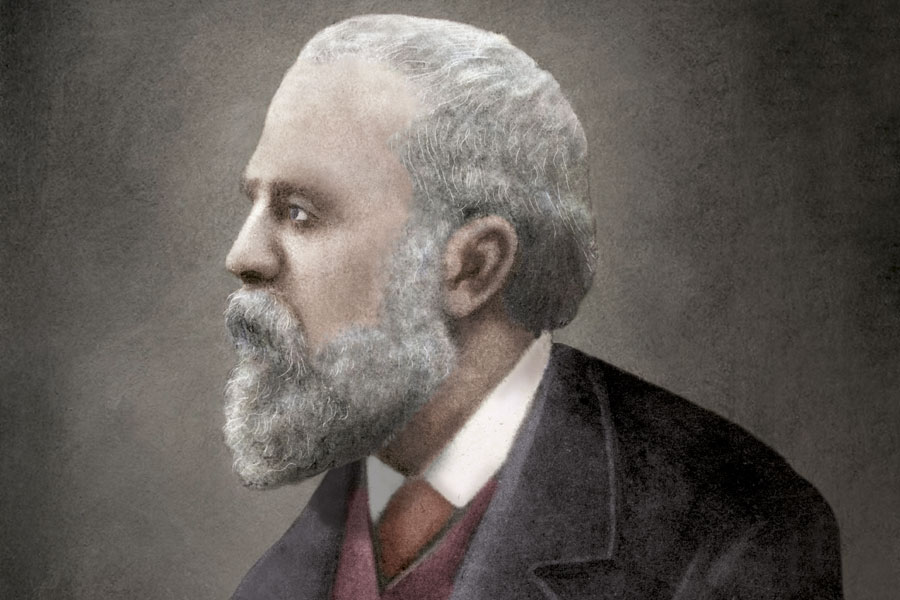 Considered to be the main exponent of Catalan Modernism, Antoni Gaudí is one of the most important architects in history. His works stand out for the incorporation of structural solutions inspired by nature, as well as for including a deep religious symbolism. In fact, Gaudí's biography is very much influenced by Catholicism, which determined all the aspects of the architect's personality.
Gaudí's most  important works in Barcelona are Sagrada Familia, Casa Vicens, Güell Palace, Casa Batlló, Park Güell and La Pedrera. All these monuments, along with the crypt in the Colonia Güell, located in Santa Coloma de Cervelló, form part of the list of World Heritage sites of Unesco.
The history of Gaudí: childhood and studies
Antoni Gaudí i Cornet was born on the 25th of June in 1852 in Reus, the capital of the region of Baix Camp, an area to the south of Catalonia. Gaudí's mother, Antònia Cornet i Bertran, was the daughter of a boiler manufacturer, just like the architect's father, Francesc Gaudí i Serra, a boilermaker from Riudoms, a small town located just a few kilometres from Reus.
Gaudí lived with his parents and his older sister and brother, Rosa and Francesc, in a modest house in the centre of Reus, although they frequently went to Riudoms, where the family had a property called Mas de la Calderera. After starting his primary school studies in a school directed by Francesc Berenguer, father of one of his future collaborators, in 1863 Antoni Gaudí enrolled in the Escuelas Pías de Reus, where he met two of his closest childhood friends, Josep Ribera Sans and Eduard Toda i Güell, with whom he collaborated on the publication of the satirical magazine El Arlequín and on the blueprint of a utopian project for the restoration of the Monastery of Poblet.
In 1868, Gaudí moved to Barcelona to finish his secondary school studies. The future architect moved into the busy neighbourbood of La Ribera with his brother Francesc, who at the time was studying Medicine.
In 1874, Gaudí was accepted into the School of Architecture. The young man combined his studies with his first forays into the professional world, collaborating with established architects such as Josep Fontserè, Francisco de Paula del Villar and, above all, Joan Martorell, his main mentor. Gaudí's progress was overshadowed somewhat in 1876 by the death of his brother and his mother. Three years later, his sister died and Gaudí and his father took charge of his niece, his  sister's only child, who suffered from quite serious health problems.
Discover the exciting life of Antoni Gaudí with this biography
This book is the first illustrated biography of Gaudí that exists on the market. It covers the life of the architect in great detail, including more than 150 historical images of his professional and personal life.
It is a book suitable for all types of readers, that includes illustrations and original sketches of Gaudi's creations. ¡Discover the book!

Gaudí's early career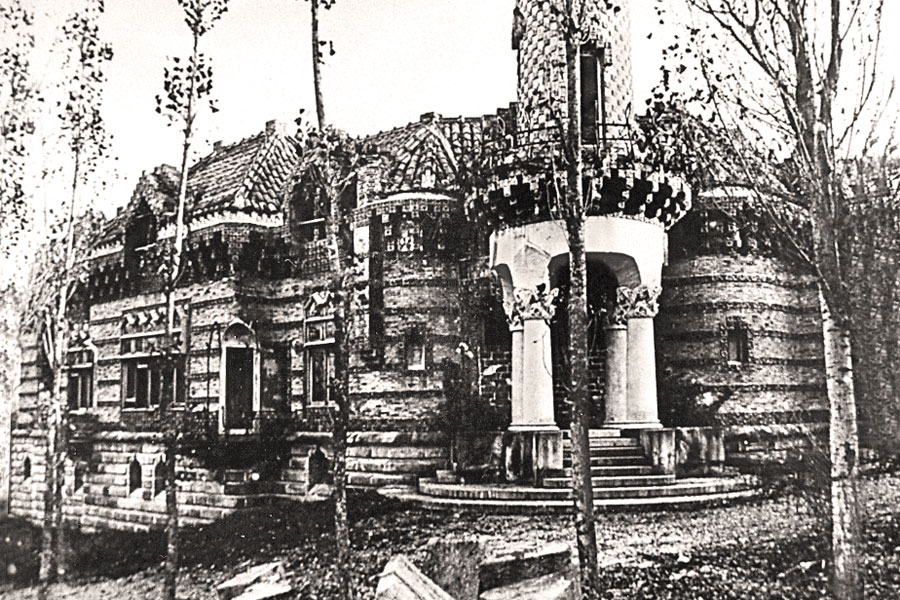 In 1878 Gaudí graduated as an architect and set up his office in the street Calle del Call, in the former Jewish neighbourhood of Barcelona. It was there that he started to work on his early commissions, such as facilities for a cooperative association called La Obrera Mataronense, some streetlights for the Plaza Real of Barcelona and a display cabinet for the prestigious Comella gloveshop. This final work captured the interest of the powerful Barcelonan industrial magnate Eusebi Güell i Bacigalupi, who would soon convert into the main patron of the architect.
Thanks to his relationship with Güell and his involvement in the most distinguished intellectual circles of Barcelona, during his life Gaudí was able to make interesting contacts and participate in architectonic projects that were more and more ambitious and which permitted him to leave his impoverished student years behind and lead a rather active social life.
In 1883, the architect presented the plans of his first major work, Casa Vicens, and embarked on the Caprice in the Cantabrian town of Comillas, where the architect had already acquired quite a reputation thanks to his works for Güell's father-in-law, Antoni López, the first Marquis of Comillas. Also in 1883, Gaudí accepted the commission to substitute Francisco de Paula del Villar to manage the building work on a temple instigated by Barcelonan bookseller Josep Maria Bocabella which ended up converting into the architect's major work.
Gaudi's consolidation as an architect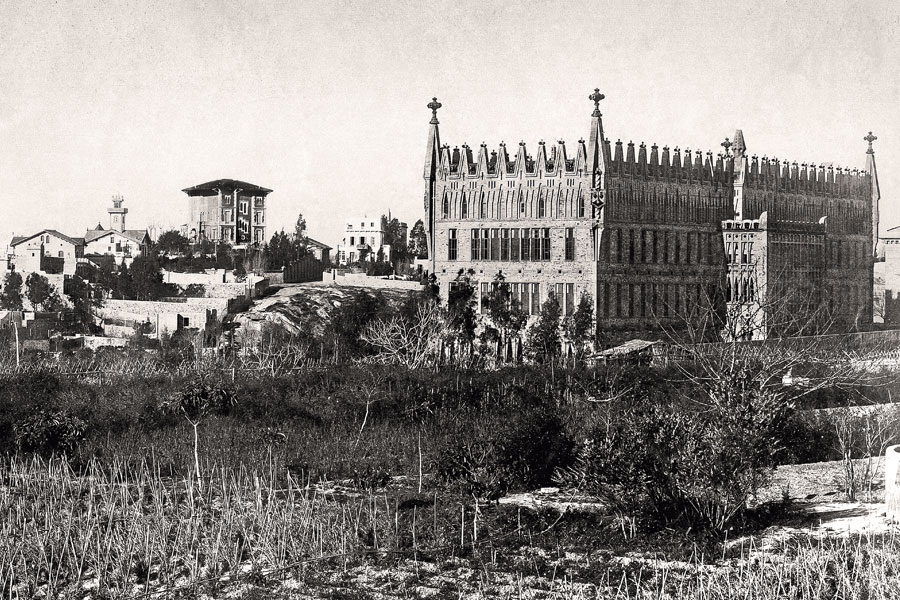 Gaudí's professional career went from strength to strength during the last quarter of the 19th century, when his works in Barcelona and in other cities established him as an architect. Gaudi's friendship with Eusebi Güell became stronger as the years went on and was the source of projects that became more and more stimulating, such as Güell Palace (1886-1888), while his blossoming relationship with the ecclesiastical world led him to carry out new commissions of a religious nature, such as the Colegio Teresiano  (1889-1890) and the Episcopal Palace of Astorga (1887-1893), a project that Gaudí carried out in parallel with the construction of Casa Botines in León (1892).
Likewise, in this period the Catalan architect designed his first work in Barcelona's Eixample, Casa Calvet, which was named the best building of 1900 by Barcelona City Council.
Gaudí's professional success was often overshadowed by the disappointments in his private life. Despite his comfortable economic status and intellectual capacity, the architect failed to conquer his great love, Pepeta Moreu. This disappointment in the affairs of the heart must have been a decisive moment for Gaudi, who turned into a much more introverted and religious man. His preoccupation for Christian morality even led him to putting his own life in danger, as demonstrated in the year 1894, when he was bed bound for days after carrying out a very strict, life-threatening fast.
The creative splendour of Gaudí's works
Between 1900 and 1910, the architect reached his professional peak. In the works that Gaudí carried out in Barcelona, such as Park Güell (1900-1914), Torre Bellesguard (1900-1909), Casa Batlló (1904-1906), La Pedrera (1906-1912) and the crypt of Colonia Güell (1908-1914) the architect demonstrated his boundless creative capacity, which placed him in the artist vanguard, even ahead of Modernisme, the dominating trend in the great European cities, and right in the public eye.
Whether for his original ideas or his strong character, Gaudí was subject to  continuous controversy. His supporters considered his genius to be beyond doubt, while his detractors criticized his extravagant taste and disproportionate ambition. The architect kept at the margin of these controversies, without straying from his ideas or making concessions to win fans. In fact, neither did he give into pressure from clients, who on occasions complained about the excessive aesthetic daring of the architect and the giddy financial costs that his building work entailed.
Obsessive dedication to his work meant that Gaudí's social life was reduced to an absolute minimum and this isolation worsened from 1906, when the architect's father died. The death, which occurred just a few months after the two had moved into Park Güell, supposed a harsh blow for Gaudí, who fell into a deep depression.
Gaudí's latter years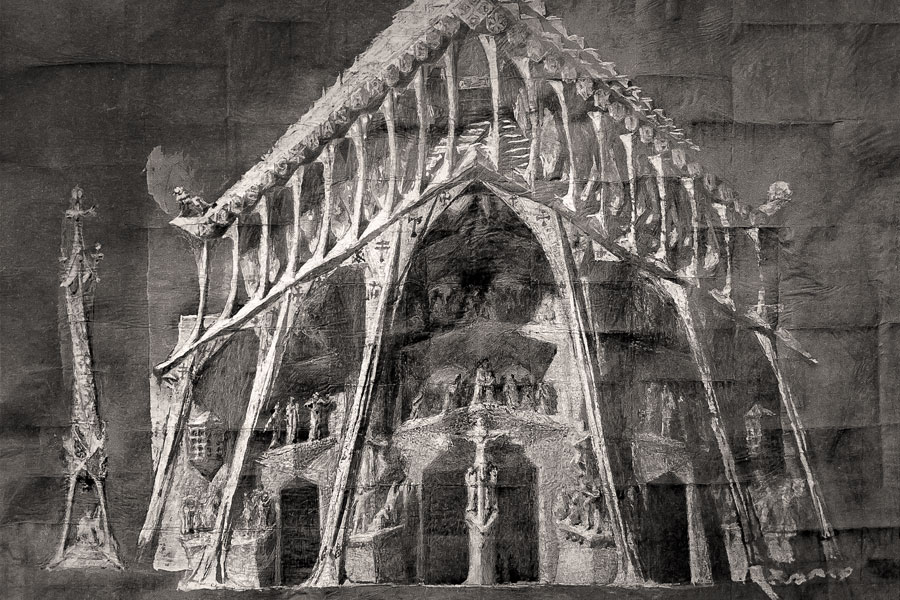 Outcast by the new intellectual elites, from 1914, Gaudí rejected any other commission and dedicated all his time and energy to the construction of the Sagrada Familia, aware that it was his most important legacy.The slowness of the construction work owing to lack of funds gave Gaudí time to play around with various aspects of the temple. The architect wanted every element to fit perfectly into the complex symbolic program he had designed. For him, the Sagrada Familia was like a stone Bible that had to gather together all the aspects of the history and mysteries of the Christian faith, so no detail could be left to chance.
On the seventh of June, 1926, after finishing his work in the Sagrada Familia, Antoni Gaudí went to the Church of Sant Felip Neri. When he arrived at the junction where streets Carrer Bailen and Gran Vía converge, he was knocked down by a tram.
Gaudí suffered concussion and several broken ribs, and after several hours of agony, he passed away, on the tenth of June. The funeral was a multitudinous affair. The architect was buried in the Chapel of Carmen, in the crypt of the Sagrada Familia.
All you need to know about Gaudí
Behind the grandeur of Gaudi's works hides a man whom very few know. Who influenced his work? What difficulties did he encounter when developing his projects? Who was his great love?
In this Illustrated Biograghy of Antoni Gaudí you'll learn about in great detail, the exciting life of the ingenious architect, but above all the man that dedicated his entire life to the relentless pursuit of perfection.